The other night I was explaining to Elijah how amazing my two years online has been. How many talented writers I've "met" and how much support and acceptance I feel from my online community. He swears that he told me when I started that I'd get out of it what I put in, but I don't ever recall that conversation.
Either way, even though it took me a little longer than most to step out of my comfort zone and connect with people, I am so glad I did and lately I've been wondering how I could honor those who have helped make my blogging experience so wonderful. I think my move to WP has finally presented me with the perfect opportunity.
As I update my Blogroll I'm going to post my reasons for putting these links up and give some background as to why I'm including these amazing sites. I hope by doing this, I can express to these women how much I appreciate their friendship and support.
One of the first blogs I ever commented on was written by Booyah's Momma. I found her post Tag You're It (in May of 2010!) and felt an instant connection to her. Kayleen has been amazingly supportive and kind, eventually providing me with this lovely WP redesign, in addition to being among my first non-IRL blog readers. Her comments pulled me out of my shell, and made me less afraid of meeting others.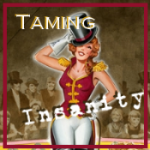 Kristin from Taming Insanity just happened to be an extension from Booyah's Momma, where she wrote a guest post.  But she won me over with How to Lose a Gut in Ten Days and made me want to be her friend forever. After social media stalking her for months she sent out a desperate tweet for help and I jumped at the chance. She gave me my first guest blogging opportunity ever, and it was the equivalent of a bloggy rock star moment for me. She is hilarious and real and I'm so glad to have stumbled upon her.
I couldn't put the first edition of my blogroll out without including Bruna of Bees With Honey. When she first commented on my completely unknown, brand newish, blog, I didn't realize how lucky I was that she just happened to find me. Is there anyone who doesn't love her? She is one of the kindest people I've had the pleasure of interacting with. Her site is warm and accepting and she hosts Let's Bee Friends, a linkup that spotlights bloggers and encourages finding new friends and supporting each other. In the spirit of this, I'll be linking each Blogroll post up with her linky, because I believe that's the spirit of the meme.
There are many more that I'll be adding throughout the year. There are so many of you for which I'm thankful and I look forward to honoring every one who has touched my life these past few years. Thank you!